Warranty: Your Satisfaction Is Job One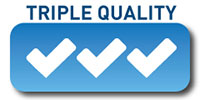 Source Building Products USA, Inc., through its Ascension Stair Parts® brand, offers you the triple quality of workmanship, service, and satisfaction. But like a three-legged stool, take away the most important quality - satisfaction - and our work is incomplete. Part of your satisfaction rests upon how we resolve problems. We'll always do our best to resolve them quickly, according to the following policies.
Thank you for your business.
Limited Warranty
SBP warrants all products sold to be free of defects in material and workmanship for a period of (1) one year from the date of delivery. All products will be replaced or a credit issued if found to be defective by SBP. No merchandise will be returned without prior approval and an RGA number issued by SBP. Refer to SBP's full Limited Warranty for more details.
Claims and Return Policy
Although Source Building Products USA, Inc. distributes quality products, it also reacts quickly to any problems you might experience. If you have a claim, report it to SBP within 24 hours after the shipment is received. Please inspect the shipment carefully. Shortages and damage need to be addressed while the driver is still at your facility. It is also highly recommended that you sign the Delivery Receipt "SUBJECT TO COUNT & INSPECTION," so that your rights are not waived should you encounter a shortage or concealed damage after the driver has left. By just signing your name on the Delivery Receipt, you are indicating to the carrier that the shipment is "FREE & CLEAR," and no future claim will be made.
Returns of non-defective goods must be in new "resalable condition," shipped prepaid, and may be subject to a 25% restocking charge. All returns need prior approval and require an RGA number (return goods authorization), along with a copy of the original invoice. Non-stock items or special orders are not subject to return or cancellation if material has been purchased or production has begun.
Care and Handling
Wood stair parts absorb the relative humidity of their surroundings. So, please...
Store them in a controlled (HVAC functioning) area. Storage units and outside containers produce extreme temperature changes, and should not be used.
Store stair parts in a dust-free area, elevated off the concrete floor.
Avoid exposure to sunlight and the effects of ultra-violet light.
Install stair parts soon after receipt of shipment to avoid the risk of damage or long-term exposure to poor conditions.
Keep protective packaging intact until installation in order to avoid wear and tear.
Iron balusters need care and protection as well. Please exercise the same care with iron as you do with wood, with this additional caution:
Avoid contact between iron parts to reduce scratches.