Innovation: Building Stairs Smarter and Faster
Ascension Stair Parts® is constantly thinking "outside the box" to find and create products that bring efficiency, ease and value to the stairbuilding process.
Replacing Wood With Hollow Iron Balusters? Baljak Keeps It Simple!
Designed to install 1/2" hollow iron balusters, the Baljak anchor simplifies installation: no shimming or scratched caps. Baljak applies to open-tread and knee wall applications, on both rakes and balconies and requires just a drill with a 5/16" driver and construction adhesive.
Check out the video at left to see how simply and easily you can install or replace hollow iron balusters.
QwikTreads - For A Fast Quality Install
Available as separate components or as a kit (includes tread, riser, and riser edge moulding~for one complete step), Ascension Stair Parts® designed QwikTread for greatest flexibility.
12-1/2" deep, 6-ply solid core treads for ample trimming and for superior stability.
Riser is wood one side; primed, the other.
Straight or returned ends, oak or maple.
Returned treads are mitered both sides, allowing you to cut one end to make LH or RH without assembly.
Check out the video at left to see the QwikTread installation steps.
Iron Baluster Measurement Protocol
With options such as scrolls, baskets, knuckles, and ribbons available, iron balusters have required some serious math to ensure no alignment and aesthetic problems when installed. So Ascension Stair Parts® developed a solution: The Iron Baluster Measurement Protocol. Now you can combine decorative options across a variety of styles and always be assured a perfect alignment at the top, centerpoint and bottom...without having to break out the calculator.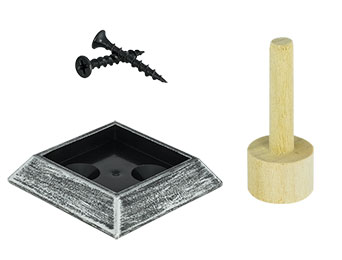 Iron Baluster Sub Shoes & Wood Baluster EZ Pins
Iron Baluster Sub Shoes (SUBSH900) are perfect when replacing wood balusters with 1/2" square iron balusters. When removed, a wood baluster typically leaves an unfinished spot on the floor. Simply screw the 2" square sub shoe into the floor over that spot, apply adhesive to the "cup" and, when installing iron balusters, seat your iron shoe into the sub shoe. Sub shoes are stocked in Satin Black, Rubbed Copper, Rubbed Bronze and Antique Nickel.
EZ Pins convert any no-pin wood baluster into one with a pin. Simply drill a 1/4" hole in the base of the baluster, then add wood glue to the thinner section of EZ Pin and tap into place.